In front of several hundred of her peers, Assistant Attorney General Sally Wellman was honored Tuesday night as Wisconsin Law Journal's 2013 Woman of the Year.
The award capped off the evening's 2013 Women in the Law awards, an annual event hosted by the Wisconsin Law Journal with help from presenting sponsor Associated Bank. Twenty-seven outstanding female members of the state's legal community were honored at the event, which was attended by more than 350 people at Milwaukee's Pfister Hotel.
Honorees were selected from more than 50 peer-submitted nominations. See below for a full list of this year's winners.
WATCH ALL THE VIDEOS
FROM TUESDAY NIGHT
The Woman of the Year distinction is made by the Association for Women Lawyers, Wisconsin Law Journal's event partner in the annual awards.
In choosing her for the honor, the group's board noted Wellman's significant caseload and dedication to mentoring prosecutors in Wisconsin and across the country.
"Sally has made a huge footprint on the legal profession in Wisconsin," the group said. "To say that she has handled significant cases would be a serious understatement. Sally's work has changed the landscape of criminal law in the state of Wisconsin."
Also receiving special honors at the event was Lifetime Achievement Award honoree Jean DiMotto, a recently retired Milwaukee County Circuit Court judge.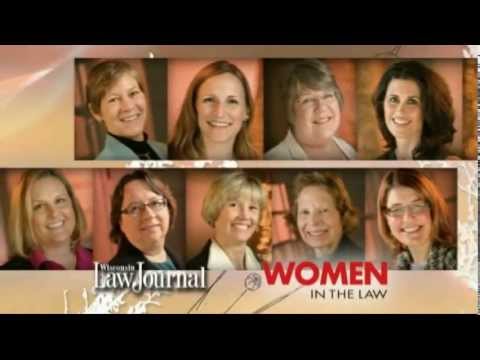 Meet the 2013 Women in the Law:
Wellman fiercely defends constitutional cases
Sally Wellman
Wisconsin Department of Justice
Bochert carves her own path in long career
Linda Bochert
Michael Best & Friedrich LLP
Campion champions several causes, including her own
Angela Campion
Campion Law LLC
Dorow puts family first in courtroom and out
Jennifer Dorow
Waukesha County Circuit Court
Finn never forgets the victims
Laura Przybylinski Finn
U.S. Attorney's Office
Grady demonstrates judicial ideals
Sandra Grady
Milwaukee County Circuit Court
Howell strikes the right life balance
Bobbi Howell
Foley & Lardner LLP
Hrovat proves a 'quick fit' at Milwaukee firm
Jacqueline G. Hrovat
Mallery & Zimmerman SC
An appealing argument for change
Mary Kennelly
Fox & Fox SC
Lavin seeks to strike balance
Molly Lavin
Habush Habush & Rottier SC
Lindner steps up to CEO challenge
Amy Lindner
Meta House Inc.
Lovejoy wears many hats for Douglas County
Rebecca Lovejoy
Douglas County Circuit Court
McCarthy rises above doubters
Amelia McCarthy
Gass Weber Mullins LLC
Nell channels early interests
Tricia Nell
Tricia Nell Law Office SC
Nusslock makes time for mentoring
Kathy Nusslock
Davis & Kuelthau SC
Powers proves she can do whatever it takes
Jennifer Powers
Quarles & Brady LLP
Ratzel's gamble pays off
Mary Lee Ratzel
von Briesen & Roper SC
Raymond leads by example
Margaret Raymond
UW Law School
Rigsby thrives despite her fears
Cynthia J. Rigsby
Foley & Lardner LLP
Violent offenders no match for Big Sis
Rita Rumbelow
U.S. Attorney's Office
Complex cases keep Schellinger on the move
Susan Schellinger
Davis & Kuelthau SC
Smetana committed to improving the system
Dana Smetana
State Public Defender's Office
Stadler, bankruptcy cases an ideal fit
Katherine Stadler
Godfrey & Kahn SC
Sullivan succeeds at her many roles
Sheila Sullivan
Bell, Moore & Richter SC
Walther bucks family trend in practice choice
Jennifer Walther
Mawicke & Goisman SC
Zylstra advocates in and outside her firm
Sarah Zylstra
Boardman & Clark LLP
DiMotto goes out on top
Jean DiMotto
Milwaukee County Circuit Court