2014 Leaders in the Law
Wisconsin Law Journal is once again preparing to honor and recognize the state's top legal professionals – and we need your help!
Please nominate a colleague for a 2014 Leader in the Law award by December 6 for consideration in this prestigious acknowledgement of their work.
Nominees can include legal practioners and judges and will be evaluated on their outstanding leadership, vision and legal expertise.
Each honoree will be recognized at the 2014 Leaders in the Law event in Milwaukee and profiled in a special publication of the Wisconsin Law Journal.
The deadline for submitting nominations is Friday, December 6.
Click here for PDF Nomination form

Twenty-six attorneys from a variety of practice areas were honored Thursday night as Wisconsin Law Journal's 2013 Up and Coming Lawyers.
Now in its fifth year, the annual award event recognizes attorneys who – right out of the starting gate – have shown themselves to be rising stars. With eight years or less of experience, honorees have handled challenging legal issues, taken steps to improve the justice system and given of themselves to their communities.
Honorees were chosen for their initiative and zeal for the practice of law, as well as their commitment to community and the positive effect they have on the lives of those around them.
WATCH VIDEOS OF THE AWARD-WINNERS
Some of them do pro bono work, others donate time to local organizations and many mentor the next generation.
The 2013 dinner and awards presentation was held at the Harley-Davidson Museum in Milwaukee.

Women in the Law 2013
In front of several hundred of her peers, Assistant Attorney General Sally Wellman was honored Tuesday night as Wisconsin Law Journal's 2013 Woman of the Year.
The award capped off the evening's 2013 Women in the Law awards, an annual event hosted by the Wisconsin Law Journal with help from presenting sponsor Associated Bank. Twenty-seven outstanding female members of the state's legal community were honored at the event, which was attended by more than 350 people at Milwaukee's Pfister Hotel.
Honorees were selected from more than 50 peer-submitted nominations. See below for a full list of this year's winners.
WATCH ALL THE VIDEOS 
FROM TUESDAY NIGHT
The Woman of the Year distinction is made by the Association for Women Lawyers, Wisconsin Law Journal's event partner in the annual awards.
In choosing her for the honor, the group's board noted Wellman's significant caseload and dedication to mentoring prosecutors in Wisconsin and across the country.
"Sally has made a huge footprint on the legal profession in Wisconsin," the group said. "To say that she has handled significant cases would be a serious understatement. Sally's work has changed the landscape of criminal law in the state of Wisconsin."
Also receiving special honors at the event was Lifetime Achievement Award honoree Jean DiMotto, a recently retired Milwaukee County Circuit Court judge.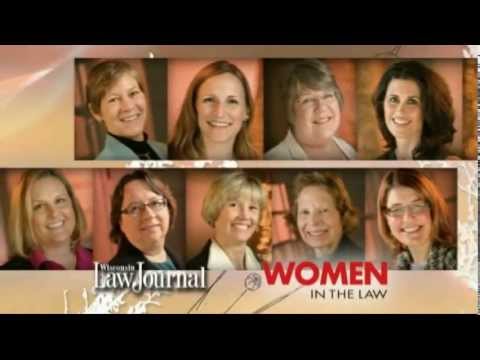 ---
OUR OTHER EVENTS