An event honoring Wisconsin's Women in the Law will be held June 12, 2014 at The Pfister in Milwaukee. Those chosen for this honor will also be featured in a special Wisconsin Law Journal publication.
The Pfister Hotel
424 East Wisconsin Avenue
Milwaukee, Wisconsin 53202
5:00 – 6:30 p.m.: Registration & cocktails
6:30 p.m.: Dinner
7:15 – 8:00 p.m.: Awards presentation
2014 Women in the Law
Shannon Allen — Fox O'Neill & Shannon SC
Erin Murphy Barbato — Barbato Immigration Law LLC
Justice Ann Walsh Bradley — Wisconsin Supreme Court
Monica Burkert-Brist — Wisconsin Department of Justice
R. Alta Charo — University of Wisconsin Law School
Jean-Marie Crahan — Gonzalez Saggio & Harlan LLP
Erin Dickinson — Hansen Reynolds Dickinson Crueger LLC
Joan Bartels Farrell — Goodwill Industries of Southeastern Wisconsin Inc.
Rachelle Hart — Aurora Health Care Inc.
Jill Hartley — The Previant Law Firm SC
Michelle Ackerman Havas — Milwaukee County District Attorney's Office Children's Court Center
Patricia Hintz — Quarles & Brady LLP
Rebecca Wickhem House — Harley-Davidson Inc.
Jane Kirkeide — Sager & Colwin Law Offices SC
Joan Klimpel — Godfrey & Kahn SC
Donna Kuchler — Kuchler & Cotton SC
Jean LaTour — Wisconsin State Public Defender's Office
Jessie Lochmann Allen — Foley & Lardner LLP
Larraine McNamara-McGraw — Horizons Law Group LLC
Laura Peck — Axley Brynelson LLP
Antonina Prestigiacomo — Foley & Lardner LLP
Cari Anne Renlund — DeWitt Ross & Stevens SC
Miriam J. "Jodie" Rohrer – Dane County District Attorney's Office
June Spoerl — Wisconsin State Public Defender's Office
Catherine Tully — Habush Habush & Rottier SC
Daphne Webb — Stafford Rosenbaum LLP
Mary Wolfe — Wisconsin State Public Defender's Office
2014 Leaders in the Law
Wisconsin Law Journal is once again preparing to honor and recognize the state's top legal professionals – and we need your help!
Thursday, February 27, 2014
5:00 PM – 8:00 PM
Hilton Milwaukee City Center
509 W Wisconsin Ave.
Milwaukee, Wisconsin 53202
United States
5:00 – 6:30 p.m.: Registration & cocktails
6:30: Dinner
7:15: Awards presentation
LAST DAY TO REGISTER: FEBRUARY 20, 2014
THIS EVENT IS SOLD OUT
2014 LEADERS IN THE LAW
Ross Anderson — Whyte Hirschboeck Dudek SC
Jennifer Bias — State Public Defender's Office
Bruce Block — Reinhart Boerner Van Deuren SC
Steven Botzau — Habush Habush & Rottier SC
Randal Brotherhood — Meissner Tierney Fisher & Nichols SC
Louis B. Butler Jr. — Gonzalez Saggio & Harlan LLP
Gregory Conway — Law Firm of Conway, Olejniczak & Jerry SC
Francis Deisinger — Reinhart Boerner Van Deuren SC
Hon. John DiMotto — Milwaukee County Circuit Court
Robert Dreps — Godfrey & Kahn SC
Michael Green — Michael Best & Friedrich LLP
Kenneth V. Hallett — Quarles & Brady LLP
Christopher Krimmer — Balisle & Roberson SC
Vicki Margolis — Kimberly-Clark Corp.
Jerry McAdow — Boardman & Clark LLP
Colleen Meloy — Corneille Law Group LLC
Bruce O'Neill — Fox, O'Neill & Shannon SC
Timothy Radelet — Wisconsin Housing and Economic Development Authority
Donald Schott — Quarles & Brady LLP
John Skilton — Perkins Coie LLP
Debra Tuttle — Metro Milwaukee Mediation Services Inc.
Daniel Vaccaro — Michael Best & Friedrich LLP
Michael Van Sicklen — Foley & Lardner LLP
Ralph Weber — Gass Weber Mullins LLC
LIFETIME ACHIEVEMENT
Tom Cannon — Legal Aid Society of Milwaukee Inc.
John Ebbott — Legal Action of Wisconsin Inc.

Twenty-six attorneys from a variety of practice areas were honored Thursday night as Wisconsin Law Journal's 2013 Up and Coming Lawyers.
Now in its fifth year, the annual award event recognizes attorneys who – right out of the starting gate – have shown themselves to be rising stars. With eight years or less of experience, honorees have handled challenging legal issues, taken steps to improve the justice system and given of themselves to their communities.
Honorees were chosen for their initiative and zeal for the practice of law, as well as their commitment to community and the positive effect they have on the lives of those around them.
WATCH VIDEOS OF THE AWARD-WINNERS
Some of them do pro bono work, others donate time to local organizations and many mentor the next generation.
The 2013 dinner and awards presentation was held at the Harley-Davidson Museum in Milwaukee.

Women in the Law 2013
In front of several hundred of her peers, Assistant Attorney General Sally Wellman was honored Tuesday night as Wisconsin Law Journal's 2013 Woman of the Year.
The award capped off the evening's 2013 Women in the Law awards, an annual event hosted by the Wisconsin Law Journal with help from presenting sponsor Associated Bank. Twenty-seven outstanding female members of the state's legal community were honored at the event, which was attended by more than 350 people at Milwaukee's Pfister Hotel.
Honorees were selected from more than 50 peer-submitted nominations. See below for a full list of this year's winners.
WATCH ALL THE VIDEOS 
FROM TUESDAY NIGHT
The Woman of the Year distinction is made by the Association for Women Lawyers, Wisconsin Law Journal's event partner in the annual awards.
In choosing her for the honor, the group's board noted Wellman's significant caseload and dedication to mentoring prosecutors in Wisconsin and across the country.
"Sally has made a huge footprint on the legal profession in Wisconsin," the group said. "To say that she has handled significant cases would be a serious understatement. Sally's work has changed the landscape of criminal law in the state of Wisconsin."
Also receiving special honors at the event was Lifetime Achievement Award honoree Jean DiMotto, a recently retired Milwaukee County Circuit Court judge.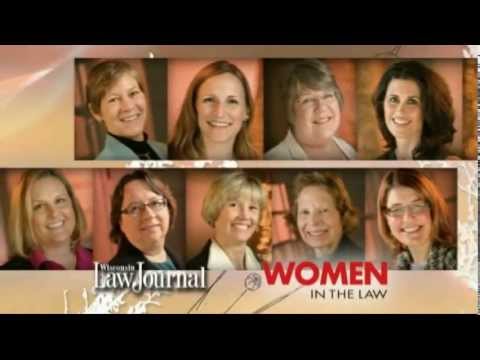 ---
OUR OTHER EVENTS