2017 Women in the Law
In June, the Wisconsin Law Journal will honor outstanding achievement by the top women in the practice of law. We're looking for those who, by achieving success, have also paved the way for success for other women in the law.
An event honoring Wisconsin's Women in the Law will be held June 7, 2017 at the 360 Room at Discovery World in Milwaukee. Those chosen for this honor will also be featured in a special Wisconsin Law Journal publication.
Consideration will be based on the following criteria:
(Please note, a DETAILED (MORE THAN 150 WORDS) description of why the nominee should be chosen is REQUIRED. A description of less than 150 words will not be accepted.)
Women attorneys who have achieved excellence in their respective fields and have influenced other women to pursue legal careers
Candidates who have opened doors for women lawyers in a variety of job settings the historically were closed to women
Those that have advanced opportunities for women within a practice area or segment of the profession
And those who have otherwise served their profession or community in a manner that has benefited the legal profession
NOMINATION DEADLINE: April 7, 2017
.
The Wisconsin law community honored 24 Leaders in the Law during the 15th annual Wisconsin Law Journal event at the Pfister Hotel in Milwaukee on Thursday night.
Almost 315 attendees turned out to honor the legal community's best and brightest.
Meet this year's Leaders in the Law:
Patricia Adelman
State Public Defender
Sally Barrientes
State Public Defender
Craig Christensen
Habush Habush & Rottier
Hector de la Mora
von Briesen & Roper
Jeff DeMeuse
Corneille Law Group
David Dewick
Hager, Dewick & Zuengler
Robert Gegios
Kohner Mann & Kailas
Patrick Goebel
Quarles & Brady
Art Harrington
Godfrey & Kahn
Christopher Hughes
Stafford Rosenbaum
Jerome Janzer
Reinhart Boerner Van Deuren
Bradley Kalscheur
Michael Best & Friedrich
Chad Kreblin
Hupy and Abraham
Raymond Manista
Northwestern Mutual
Marsha Mansfield
University of Wisconsin-Madison
James McKeown
Foley & Lardner
Charles Neider
Neider & Boucher
Timothy Nettesheim
Husch Blackwell
Albert Orr
Reinhart Boerner Van Deuren
Tamara Packard
Pines Bach
Dawn Rablin
State Public Defender's Milwaukee Trial Office
Erin Strohbehn
Gimbel, Reilly, Guerin & Brown
Mario White
State Public Defender
Jeffrey Zarzynski
The Law Offices of Schiro and Zarzynski
The Wisconsin Law Journal honored 26 Unsung Heroes at an event on Thursday at the Grain Exchange in downtown Milwaukee.
Meet this year's Unsung Heroes:
Maria Morales
Weiss Berzowski
Firm Administrator
Sue Sheldon
State Public Defender's Office
Recently Retired
Mary Kay Bradford
Legal Assistant
Michael Best & Friedrich
Jill Bradshaw
Law Library Manager
Godfrey & Kahn
Kathy Brickl
Office Manager
Murphy Desmond
Jessica Curns
Marketing and Media Technology Coordinator
Godfrey & Kahn
Pagette Fischer
Director of Marketing, Business Development
Davis & Kuelthau
Rita Heyerholm
Legal Assistant
Boardman & Clark 
Sara Hullermann
Judicial Assistant
Grant County Circuit Court
Staci Jensen
Legal Secretary
Quarles & Brady
Kathryn Kirk
Legal Secretary
Quarles & Brady
Kateri Knous
Paralegal
Quarles & Brady
William Kohl
Private Investigator
Kohl Investigations
Megan Lison
Paralegal
Hager, Dewick & Zuengler
Jennifer Meyer
Paralegal
Michael Best & Friedrich
Kelly Monaghan
Office Specialist
Department of Agriculture, Trade and Consumer Protection
Shawn Nangle
Receptionist, Administrative Assistant
Bell, Moore & Richter
Donna Paulsen
Paralegal
Reinhart Boerner Van Deuren
Tammy Raymond
Legal Secretary
Godfrey & Kahn
Rob Rosenberg
Company President
Rosenberg Consulting Services
Tony "Pan" Sanfelipo
Senior Motorcycle Investigator
Hupy and Abraham
Hope Seegert
Office-Services Manager
Godfrey & Kahn
Kristin Sommer
Legal assistant
Hupy and Abraham
Chandru Solraj
Database Administrator
Wisconsin State Public Defender's office
Tracy Sperl
Administrative Assistant
Reinhart Boerner Van Deuren
Jill Wellskopf
Director of Marketing
Hupy and Abraham
Almost 300 people in the Wisconsin law community were in attendance Thursday to honor the 2016 class of Up and Coming Lawyers at the Harley-Davidson Museum in Milwaukee.
Meet this year's outstanding Up and Coming Lawyers:
Braun taking busy to the next level
Shannon Braun is really, really busy.
Christiansen gives a voice to her clients by listening
The compassionate disposition the associate attorney Katie Christiansen brings to her criminal-defense and civil-litigation practice can perhaps be best exemplified by a moment that her colleagues at Doar, Drill & Skow say "solidified her passion for being a zealous advocate for juveniles and those in need of help."
Coursin not your average, cookie-cutter practicing attorney
A lot of lawyers can point to the day they made the decision to go law school.
Dancy plans for success
"I'm naturally a planner," says Kelly Dancy. "Ask anyone in my family — I'm constantly organizing and reorganizing."
Small claims court opens door for Engelke's career
Kyle Engelke was a senior journalism major at UW-Madison and on his way to a life as a sports writer the day his career plans changed.
Freiman provides the best kind of insurance policy
For Amy Freiman, every day presents a new hurdle.
Mock trial sets Frost on career path
Jacob Frost knew he was destined to become an attorney when, in his first trial, he helped "convict" Christopher Columbus of crimes against humanity.
Glicksman charts his own course
Ben Glicksman's goal is to make a difference.
Summertime makes Handelsman a better lawyer
The inherent contradiction of being a trial lawyer in the 21st century is that not that many cases go to trial anymore … except for those of Alex Handelsman.
Helland's practice, volunteering aimed at helping businesses
Murphy Desmond's Alison Helland acknowledges she has a packed schedule between her work in the firm's business group and her volunteering for the State Bar of Wisconsin and the Latino Chamber of Commerce of Dane County.
Hendrix a family law trendsetter
Megann Hendrix is the youngest person ever to serve on the board of the Collaborative Family Law Council of Wisconsin and one of the youngest to serve on the board of directors for the State Bar of Wisconsin Family Law Section.
Jansen proves you can go home again
Brad Jansen was on the legal fast track.
Kasper gets into new ballgame for Brewers
When Kellen Kasper sets a goal, there's no stopping him.
Messler puts the plan into estate planning
Jacqueline Messler understands her clients may not always be eager to talk.
Mochel champions expungement, helping children
Robert Mochel had a good idea at a young age that he wanted to help kids. He just didn't always know he would be doing it with the law.
Morin comes full circle to Waukesha public defender's office
Kelsey Morin has a special connection to the office where she works.
Life trumps immigration law for Murrar
Just like the rest of us, Elizabeth Murrar is counting down the days until the presidential election.
O'Connor takes the mystery out of health care law
Meghan O'Connor is an expert in one of those fields that affects nearly everyone yet is a mystery to many: health care law.
Orton finds admiration for the law
Richard Orton said he has three characteristics that he believes make him a great fit for civil litigation: an inquiring mind, a desire to help others and a competitive drive.
Plier thrives by helping others
An injury at age 16 spurred Kyra Plier to pursue a legal career.
Reginato 'knows how to get things done'
Matteo Reginato went to law school with the intention of pursuing a practice in transactional law. He had graduated cum laude from the University of Houston and established a successful career in finance and mergers and acquisitions.
Ress finds rush in law career
In 2009, David Ress was a second-year law student at Marquette University writing bench memos as an intern for the Wisconsin Supreme Court.
Rolling battles old standards in eminent domain cases
"Well, there's not a lot of us," Joseph Rolling said laughing, "we are about as specialized an area of a law as you can get."
Schank relishes complicated bankruptcy cases
For the bankruptcy attorney Jennifer Schank, the more complicated the case, the better.
Schuster excels in advocate role as assistant state public defender
The cases that Jessica Schuster largely works on have garnered quite a bit of attention in recent months, to say the least.
UW's Stevenson breaks ground (and a hip)
Like many young lawyers, Adam Stevenson is driven to make a difference in the law. Some will follow a path to the courtroom, others will distinguish themselves through research or writing.
Tilleman ventures into gray area of insurance law
Insurance law may not sound like a field with room for being innovative, but that's always a goal of Morgan Tilleman's practice.
Ebben flows into practice of construction law
Michelle Wagner Ebben keeps a pair of boots handy just in case she has to tromp around a construction site.
Wucherer's work comes alive
Even if you're doing something as casual as taking a trip to the grocery story, you're likely to see the fruits of Hillary Wucherer's work.
York relishes work on complex financial transactions
Melissa York credits her mentors with teaching her the ins and outs of how financial institutions work and the role attorneys play in helping them.
Questions? Call 414-225-1803 or email jenny.byington@wislawjournal.com.
The Wisconsin Law Journal honored 26 outstanding women lawyers Thursday night during the annual Women in the Law event at the Pfister in Milwaukee. Nearly 325 people were in attendance for the 13th annual event.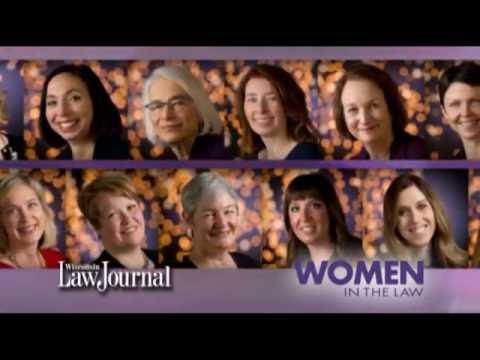 Abraham in it for the long haul
Jason Abraham
Hupy and Abraham
Bitar conquers constitutional matters
Remzy Bitar
Arenz, Molter, Macy, Riffle & Larson
Braza a national leader in sports law
Mary Braza
Foley & Lardner
Cain strikes a balance
Janet Cain
Peterson, Johnson & Murray
Cotton gets jump-start into law career
Anthony Cotton
Kuchler & Cotton
D'Amato forges close relationships with clients
Jennifer D'Amato
Reinhart Boerner Van Deuren
Quarles' Daniels fosters opportunity
John Daniels
Quarles & Brady
Dickmann uses partnerships to help clients
David Dickmann
Wisconsin State Public Defender's Office
Hogan injects reason into family law
John Hogan
Hogan & Melms
Kent champions policy and advocacy
Paul Kent
Stafford Rosenbaum
Macaulay puts law in its place
Stewart Macaulay
University of Wisconsin Law School
McConnell making a difference for clients, community
Andrew McConnell
Boyle Fredrickson
Meddings' passion for law should be trademarked
Lori Meddings
Michael Best & Friedrich
Murn skis into successful law career
Don Murn
Axley Brynelson
Phillips' career takes off at Godfrey & Kahn
Jim Phillips
Godfrey & Kahn
Siesennop started on the other side of the witness stand
Wayne Siesennop
Siesennop & Sullivan
Sullivan brings perspective to health care defense
Patrick Sullivan
Siesennop & Sullivan
Troy keeps serving community after leaving bench
Joseph Troy
Habush Habush & Rottier
Habush's Wagner a character-builder
Benjamin Wagner
Habush Habush & Rottier
Wesley having a ball pursuing his 'second' dream
Gregory Wesley
Gonzalez Saggio & Harlan
LAST DAY TO REGISTER: MARCH 11, 2016
Questions? Please contact Jenny Byington at jenny.byington@wislawjournal.com or 414-225-1803

Members of Wisconsin's legal community turned out Thursday to help honor the Wisconsin Law Journal's 2015 Unsung Heroes. The yearly event was held in the Grain Exchanged Ballroom and honored 24 people who work behind the scenes and normally go unnoticed.
Meet this year's Unsung Heroes:
Lifetime Achievement Award
Habush Habush & Rottier
Terry Tadysak
Lifetime Achievement Award
Department of Justice
Linda Wells
Kathy Carufel
Corneille Law Group
Mackenzie Erickson
Hansen Reynolds Dickinson Crueger
Lynn Gehrke
Milwaukee County Law Library
Joleen Gudel
Tracey Wood & Associates
Jocelyn Henning
Wisconsin Department of Justice
Mary Hermann
Milwaukee County Cicuit Court Branch 41
Maribeth Karpinski
Lindner & Marsack
Lorrie Kimball
Quarles & Brady
Sheri Kotas
Quarles & Brady
Laura La Rose
Reinhart Boerner Van Deuren
Lucy Listinsky
Milwaukee County Cicuit Court Branch 41
Mary Lyles
Milwaukee City Attorney's Office
Janet Medlock
U.S. Bankruptcy Court for the Eastern District of Wisconsin
Lynda Moser
Michael Best & Friedrich
Louie Phillips
Boardman & Clark
Adam Premo
Axley Brynelson
Sheila Reiff
Walworth County Clerk's Office
Melinda Schroeder
Marquette Volunteer Legal Clinic
Diane Schuck
Boardman & Clark
Holly Szablewski
First Judicial District, Milwaukee County
Amy Thornton
Wisconsin Department of Justice
Laurie Wagner
Quarles & Brady
.
VIEW THE UP AND COMING MAGAZINE
.
Here's this year's Up and Coming Lawyers:
Improving Milwaukee motivates Bynum
Although Marvin Bynum II may miss the mountains of Portland , Ore., where he spent much of his childhood, he's determined to use his practice in real-estate law to improve Milwaukee, which has been his home since 2001.
Collins proves youth doesn't mean inexperience
Amy Collins spent years on the stage singing, dancing and acting.
Wyant sees benefits to waiting for law school
A little life experience gave Leah R. Wyant (Harrand) a lot of perspective before starting law school.
Case variety keeps Harvey engaged
Patrick Harvey likes to mix it up.
Hebl carries on legacy of helping others
Andrew Hebl doesn't keep his cape in his briefcase, although he should probably consider it.
Municipal lawyer Hoffer enjoys giving back
Municipal lawyers have to be jacks-of-all-trades but don't have the usual accompanying luxury of being master of none.
Jerabek didn't take the traditional road to shareholder status
People always ask me how I went from public relations to law, and they're actually more similar than you might think," said Jerabek, who made shareholder in July with von Briesen & Roper in Madison after five years with the firm. "I spend most of my day writing, as I did before, and trying to solve problems for people, as I did before. The subject matter, the expertise is different, but the day to day is actually very similar."
Kinnel balances unique case mix
Laurna Kinnel readily acknowledges that her practice at Fox, O'Neill and Shannon, entails an unusual mix of business and family-law cases.
Krumrie's talent has him rocketing to success
Ryan Krumrie made quite an in impression when he interviewed at Hager, Dewick & Zuengler.
Leffler building a legal career
Matthew Leffler grew up in the family business of real estate and development, but he knew he needed to find his own direction in an industry he loved.
It's all in the family for Lonergan
New attorneys don't come much tougher than Emily Lonergan.
MacGillis takes pride in helping others
Christopher MacGillis feels lucky for what he gets to do every day – helping those injured in accidents.
McFarlane helps others rekindle passion for law
Laura McFarlane proves being a do-gooder isn't a bad thing.
McGinn makes transition from classroom to courtroom
On the surface, you wouldn't think there were a lot of similarities between teaching and being a lawyer. But Colin McGinn, an assistant state public defender at the Milwaukee's State Public Defender's office, sees them every day.
SPD's office has strong pull for Moses
Faun Moses is driven to help those who need it.
Mueller on a mission to help others
For Travis Mueller, practicing law is all about relationships.
No matter the case, Murphy gives it his all
Patrick Murphy straddles two very different types of practice — insurance coverage and intellectual-property litigation — but enjoys the test of his abilities each brings.
Pittman nurturing offshoot of the family firm
Soon after graduation from law school, Wade Pittman opened the Madison branch of his family's law firm: La Crosse-based Pittman & Pittman Law Offices LLC.
Building on a Rock
Hannah Rock helped to create her current job while still in law school.
Sanford there for clients at tough times
Court was the natural place for Eric Sanford, who is the son of a prosecutor turned criminal defense attorney and the grandson of a judge.
Sarmiento a strong insurance policy
Joseph Sarmiento is drawn to insurance litigation because of all the thinking it requires.
Electrical engineering past gives Schlevensky a jolt
Eric Schlevensky draws on his more than a decade of experience as an electrical engineer when working with clients to meet their intellectual-property needs.
Schmidt relishes taking on difficult cases
When Elizabeth Schmidt first started at West Bend-based Alan C. Olson & Associates, short-term and long-term disability cases merely sounded interesting.
Snapp's passion for advocacy helps her weather tough times
What motivates Breanne Snapp is simple.
Splitek excels at simplifying complicated cases
Matthew Splitek regularly deals with complex cases in his commercial-litigation practice at Quarles & Brady LLP.
Tahk sows the seeds for next generation of attorneys
Although she went to Yale Law School, Susannah Camic Tahk knew she wanted to teach.
Triebenbach took time to ensure legal career was right fit
Somewhere deep inside, Lauren Triebenbach knew she was supposed to be a lawyer.
From Big Ten to Big Brother, Weininger finds his domain
Andrew Weininger always knew he wanted to open his own firm.
Witkov balances love for law with love for people
Adam Witkov loves problems.
Wong creating a patent on her work
Sarah Wong is fast establishing herself as an expert in intellectual property law at the Milwaukee-based firm Boyle Fredrickson SC. The 2012 Marquette University Law School graduate earned an undergraduate degree in biomedical engineering, which helped lead to her area of specialization within the law.
The Wisconsin Law Journal honored its 2015 Women of the Law on Thursday at the Pfister Hotel in Milwaukee. More than 300 people turned out to celebrate this year's field of outstanding women.
(Staff photos by Kevin Harnack)
Check out the electronic edition of our 2015 Women in the Law magazine
.
Kreiter gives her all, has it all
Woman of the Year
Maria Kreiter, Godfrey & Kahn
Allen dedicated to fighting for her clients
Jennifer Allen, Alan C. Olson & Associates
Light bulb moment brings Arndt Labs to law
Jodi Arndt Labs, Conway, Olejniczak & Jerry
Bergstrom lives by examples set on family farm
Kristin Bergstrom, Reinhart Boerner Van Deuren
Relationships, public service define Bonniwell
Nancy Bonniwell, Weiss Berzowski Brady
Bowen discovers the virtues of being 'bossy'
Freya Bowen, Perkins Coie
Service is front and center for Brostrom
Ellen Brostrom, Milwaukee County Circuit Court
Coffee appreciates impact of her work
Rebecca Coffee, Mastantuono & Coffee
Fleming gives back to community, family through clients
Miriam Fleming, Michael Best & Friedrich
GaleWyrick rules court with a receptive ear
Molly Galewyrick, Polk County Circuit Court
Gibeault has knack for firsts at Axley Brynelson
Patricia Gibeault, Axley Brynelson
Heidt the cream of the crop
Martha Heidt, Bye Goff & Rohde
Gonzalez Knavel shows true grit in practice, retirement
Maria Gonzalez Knavel, Foley & Lardner
Maloney's appellate work making a difference
Susan Maloney, Siesennop & Sullivan
Mancoske looks out for clients, other solos
Debra Mancoske, Mancoske Law Office
McCarthy sees world through clients' eyes
Gail McCarthy, Hochstatter, Mccarthy, Rivas & Runde
McMahon fights for her clients by getting personal
Maura McMahon, State Public Defender's Office
Mueller draws on family for motivation
Elisabeth Andrews Mueller, Milwaukee County District Attorney's Office
Murdock builds career in construction, insurance law
Andrea Murdock, Halloin & Murdock
Murphy a trailblazer for women attorneys
Ann Murphy, Quarles & Brady
All the world's a stage for Eastern District's Pepper
Pamela Pepper, U.S. Eastern District
For Scott, good lawyering starts with listening
Denasha Scott, Stafford Rosenbaum
Shapiro empowers clients during family crises
Amy Shapiro, Hawks Quindel
Sutkiewicz helps establish veterans court initiative
Angela Sutkiewicz, Sheboygan County Circuit Court
Sheeran blazes law trail for women
Susan Sheeran, Melli Law
Tidwall finds being a lawyer entails duty to society
Karen Tidwall, Whyte Hirschboeck Dudek
Tomczyk gets concrete results from often invisible efforts
Debby Tomczyk, Reinhart Boerner Van Deuren
For Ustad Smith, 'winning' begins with understanding clients
Ann Ustad Smith, Michael Best & Friedrich
For Watson, listening to clients is key
Dee Dee Watson, State Public Defender's Office
Weston teaches law, even while running tech company
Cheryl Weston, University Of Wisconsin Law School
2015 LEADERS IN THE LAW
Almost 400 lawyers, judges, support staff and their families came together Wednesday to celebrate the Wisconsin Law Journal's 2015 Leaders in the Law.
Joseph Boucher
founding partner, Neider & Boucher SC
Mark Budzinski
managing partner, Corneille Law Group LLC
Daniel Conley
partner, Quarles & Brady LLP
Randall Crocker
president and CEO, von Briesen & Roper SC
Nathan DeLadurantey
founding partner, DeLadurantey Law Office LLC
Andrea Farrell
attorney, The Jeff Scott Olson Law Firm SC
William Fox
founder and chairman, Fox, O'Neill & Shannon SC
William Katt
regional managing partner, Wilson Elser Moskowitz Edelman & Dicker LLP
Russell Klingaman
partner, Hinshaw & Culbertson LLP
Eric Larson
partner, Arenz, Molter, Macy, Riffle & Larson SC
Maria Lazar
assistant attorney general, Wisconsin Department of Justice
Dennis Melowski
founding partner, Melowski & Associates LLC
R. Timothy Muth
shareholder, Reinhart Boerner Van Deuren SC
Stephen Nick
city attorney, City of Eau Claire
Jennifer Nissen
attorney, Hochstatter, McCarthy, Rivas & Runde SC
Brent Nistler
founding partner, Nistler Law Office SC
Jose Olivieri
partner, Michael Best & Friedrich LLP
Alan Olson
founder and attorney, Alan C. Olson & Associates, SC
Rebecca Persick
commissioner, Sheboygan County Circuit Court
John Peterson
senior shareholder, Peterson, Berk & Cross SC
Thomas Reed
regional attorney manager, State Public Defenders Office Milwaukee Trial Division
Ward Richter
shareholder, Bell, Moore & Richter SC
Buck Sweeney
partner, Axley Brynelson LLP
Charles Vogel
shareholder, Godfrey & Kahn SC
Roy Wagner
shareholder and chairman of construction-law practice, von Briesen & Roper SC
Edward (Ned) B. Witte
shareholder, Environment and Energy Strategies, Godfrey & Kahn, SC
Mary Wolverton
shareholder, Peterson, Johnson & Murray SC
Lifetime Achievement
Jere McGaffey
retired partner, Foley & Lardner LLP
Lifetime Achievement
Esther "Cody" Splitt
attorney, Private practice
UNSUNG HEROES OF 2014
Twenty-four of the Wisconsin legal community's Unsung Heroes were honored Thursday with an awards luncheon at the Milwaukee Athletic Club in Milwaukee.
Meet this year's Unsung Heroes:
Staff photos by Kevin Harnack
Bauer relishes career as record guardian
Sherry Bauer
court reporter, Kenosha County Circuit Court
Curiosity helps Crandall leap from art world to legal work
Jane Crandall
librarian, Axley Brynelson LLP, Madison
Czysh plays multiple roles for Andrus
Sharon Czysh
Office manager, Andrus Intellectual Property Law LLP, Milwaukee
Dragolovich completes successful career
Nancy Dragolovich
IP docketing and administrator manager (retired), Michael Best & Friedrich LLP, Milwaukee
Dunkin offers a helping hand
Regina Dunkin
executive director, Merrill Community Center Inc., Beloit
Evans-Carr masters art of event planning
Phyllis Evans-Carr
office manager/HR, Michael Best & Friedrich LLP, Milwaukee
Ferrel leads by example
Deb Ferrel
paralegal, Hawks Quindel SC, Madison office
Success is in the details for Fritche
Cheryl Fritche
legal assistant/paralegal, Horizons Law Group LLC, Brookfield
Gandee maintains serenity in hectic world
Julie Gandee
legal secretary, Quarles & Brady LLP, Milwaukee
Gibbs-Benesh thrives on change
Genny Gibbs-Benesh
paralegal, Cullen Weston Pines & Bach LLP, Madison
Finn Gorski makes her mark in long career
Liz Finn Gorski
judicial operations manager, Vel Phillips Juvenile Justice Center, Wauwatosa
Gureski overcomes early career struggles
Richard Gureski
central file manager, Godfrey & Kahn SC, Milwaukee
Hanson finds success with old-school ethics
Diane M. Hanson
office manager, Boardman & Clark LLP's Baraboo office
Karls crafts a steady career
Jean Karls
legal assistant, Axley Brynelson LLP, Madison
Krueger marks time with technology
Susan Krueger
legal secretary, Quarles & Brady LLP, Milwaukee
Loehner seeks new challenges
Michele Loehner
paralegal, Habush, Habush & Rottier SC, Milwaukee
Moberg finds unexpected success
Jane Moberg
Director of Library Services, Michael Best & Friedrich LLP, Milwaukee
Ott leaves mark at Michael Best & Friedrich
Lori Ott
legal secretary, Michael Best & Friedrich LLP, Milwaukee
Challenges don't faze legal secretary
Erika Pack
legal secretary, Quarles & Brady LLP, Milwaukee
Paz finds success behind the scenes
Monica Paz
deputy clerk of courts, Waukesha County Juvenile Court
Peterson offers help when defendants need it most
Sandra Peterson
legal associate, Wisconsin State Public Defender's Office
Smith finds satisfaction in helping others
Kathy Smith
budget and policy analyst, Wisconsin State Public Defender's Office
Dedication, adaptability power Ulrich
Sarah Ulrich
office manager/legal assistant, Becker Law Office SC, Madison
Zweber gives decades to Quarles & Brady
Joan Zweber
supervisor, office services, Quarles & Brady LLP, Milwaukee
2014 UP AND COMING LAWYERS
Twenty-six attorneys from a variety of practice areas were honored Wednesday night as Wisconsin Law Journal's 2014 Up and Coming Lawyers.
Now in its sixth year, the annual award event recognizes attorneys who – right out of the starting gate – have shown themselves to be rising stars. With eight years or less of experience, honorees have handled challenging legal issues, taken steps to improve the justice system and given of themselves to their communities.
Honorees were chosen for their initiative and zeal for the practice of law, as well as their commitment to community and the positive effect they have on the lives of those around them.
Some of them do pro bono work, others donate time to local organizations and many mentor the next generation.
The 2014 dinner and awards presentation was held at the Harley-Davidson Museum in Milwaukee.
(Staff Photos by Kevin Harnack)
Click here for Digital Edition
Bricco shows her toughness
Katie Bricco, Wisconsin State Public Defender's Office, Waukesha
Cimpl-Wiemer keeps balance
Allison Cimpl-Wiemer, vice president and associate counsel, Associated Banc-Corp, Milwaukee
DiUlio follows straight path to law
Nicholas DiUlio, attorney, Godfrey, Braun & Frazier LLP, Milwaukee
Fowles satisfied with career switch
Sarah Fowles, associate, Quarles & Brady LLP, Milwaukee
Garcia finds helping hands
Carina R. Garcia, attorney,  Petrie & Stocking SC, Milwaukee
Gatewood rolls with changes
Heather K. Gatewood, senior legal counsel, Michels Corp., Brownsville
Grigg makes divorce collaborative
Kathryn Grigg, attorney, Axley Brynelson LLP, Madison
Harrell thrives in complex cases
Kathryn Harrell, attorney, Lawton & Cates SC, Madison
Hartman helps poor and elderly
April Hartman, staff attorney, Legal Action of Wisconsin Inc., Milwaukee
Hoff has clients' interests at heart
Casey Hoff, attorney, Kirk Obear and Associates, Sheboygan
Imhoff finds worldwide demand
Benjamin Imhoff, partner, Andrus Intellectual Property Law LLP, Milwaukee
Johnson helps workers stay afloat
Larry Johnson, attorney, Hawks Quindel SC, Milwaukee
Kohout plays key role in Bucks' sale
Jason Kohout, senior counsel, Foley & Lardner LLP, Milwaukee
Lin looks for the challenges
Enku Edgar Lin, assistant public defender, Wisconsin State Public Defender's Office, Milwaukee
Linnen racks up 7th Circuit wins
Julie Linnen, attorney, Federal Defender Services of Wisconsin Inc., Madison
Manian excels in criminal law
Jacob Manian, associate attorney, Fox, O'Neill & Shannon SC, Milwaukee
McLeod builds on early win
Nicholas M. McLeod, associate attorney, Alan C. Olson & Associates SC, New Berlin
Meiners leads by example
Deborah Meiners, associate attorney, DeWitt Ross & Stevens SC, Madison
Menghini making his mark
Michael Menghini, partner and shareholder, Herrling Clark Law Firm Ltd., Appleton
Naleid looks to next chapter
Brittany Lopez Naleid, attorney, Reinhart Boerner Van Deuren SC, Milwaukee
Noyes finds success in the details
Kelly Noyes, shareholder, von Briesen & Roper SC, Milwaukee
Scheller builds a career on campus
Rebecca Scheller, University of Wisconsin Law School
Shrestha thrives in complex cases
Jessica J. Shrestha, associate, Wheeler, Van Sickle & Anderson SC, Madison
Sitzberger shows steely resolve
Randy Sitzberger, prosecutor, Milwaukee County District Attorney's Office
Turczyn turns dreams into business
Melissa Turczyn,  associate, Michael Best & Friedrich LLP, Madison
Urmanski empowers victims
Joel Urmanski, assistant district attorney, Sheboygan County
2014 WOMEN IN THE LAW
In front of several hundred of her peers, attorney Jessie Lochmann Allen was honored Thursday night as Wisconsin Law Journal's 2014 Woman of the Year.
The award capped off the evening's 2014 Women in the Law awards, an annual event hosted by Wisconsin Law Journal with help from presenting sponsor Associated Bank. Twenty-seven outstanding female members of the state's legal community were honored at the event, which was attended by more than 375 people at Milwaukee's Pfister Hotel. See below for a full list of this year's winners.
The Woman of the Year distinction is made by the Association for Women Lawyers, Wisconsin Law Journal's event partner in the annual awards.
In choosing her for the honor, the group's board noted that Allen, a partner at Foley & Lardner LLP and member of the firm's transactional and securities practice, has "gone above and beyond to help other women achieve similar success both in the law and in business."
Allen also is a member of the firm's Recruiting Committee and serves as the hiring partner for the Milwaukee office.
"Jessica is very obviously a highly-qualified lawyer … in a very visible role to colleagues and clients," AWL President Jennifer Allen said. "However, what impresses me the most is that she uses her position to help other women. She reminds her own clients about the value of putting women on their boards and recommends women to fill these roles."
All of this, while managing her own responsibilities at work and home.
"She is in a position to help and she does so in spite of her obviously very busy and full life," Jennifer Allen said. "This speaks volumes about her quality as a professional and a sponsor of women."
Meet this year's Women in the Law:
Allen makes a case for having it all
Woman of the Year
Jessie Lochmann Allen — Foley & Lardner LLP
Allen keeps mother in mind while building career
Shannon Allen — Fox O'Neill & Shannon SC
Firm founder fights for immigrant rights
Erin Murphy Barbato — Barbato Immigration Law LLC
Justice Bradley continues to rise to challenges
Justice Ann Walsh Bradley — Wisconsin Supreme Court
Burkert-Brist leaves lasting impression
Monica Burkert-Brist — Wisconsin Department of Justice
UW Law professor makes a difference
R. Alta Charo — University of Wisconsin Law School
Litigation leader devotes time to others
Jean-Marie Crahan — Gonzalez Saggio & Harlan LLP
Dickinson takes a risk, reaps the rewards
Erin Dickinson — Hansen Reynolds Dickinson Crueger LLC
In-house counsel relishes spreading goodwill
Joan Bartels Farrell — Goodwill Industries of Southeastern Wisconsin Inc.
Hart sets an example while guiding others
Rachelle Hart — Aurora Health Care Inc.
Hartley gets tougher with every challenge

Jill Hartley — The Previant Law Firm SC
Havas takes the long route to dream job
Michelle Ackerman Havas — Milwaukee County District Attorney's Office Children's Court Center
Hintz goes beyond the basic requirements
Patricia Hintz — Quarles & Brady LLP
House leads the pack in varied legal career
Rebecca Wickhem House — Harley-Davidson Inc.
Kirkeide always willing to lend a hand
Jane Kirkeide — Sager & Colwin Law Offices SC
Summer assignment sets Klimpel on career path
Joan Klimpel — Godfrey & Kahn SC
Kuchler's maternal instincts aid defense work
Donna Kuchler — Kuchler & Cotton SC
La Tour provides a voice for the vulnerable
Jean La Tour — Wisconsin State Public Defender's Office
Foreclosure attorney inspired to fight for others
Larraine McNamara-McGraw — Horizons Law Group LLC
Real estate remains Peck's priority
Laura Peck — Axley Brynelson LLP
Prestigiacomo helps nurture others

Antonina Prestigiacomo — Foley & Lardner LLP
Renlund keeps her focus on clients
Cari Anne Renlund — DeWitt Ross & Stevens SC
Rohrer offers light in the darkness
Miriam J. "Jodie" Rohrer – Dane County District Attorney's Office
Spoerl tries to keep clients out of the system
June Spoerl — Wisconsin State Public Defender's Office
Tully stands tall in a male-dominated career
Catherine Tully — Habush Habush & Rottier SC
Webb helps carve a path for others
Daphne Webb — Stafford Rosenbaum LLP
Wolfe finds strength in challenges of her job
Mary Wolfe — Wisconsin State Public Defender's Office