The Wisconsin Law Journal honored 26 outstanding women lawyers Thursday night during the annual Women in the Law event at the Pfister in Milwaukee. Nearly 325 people were in attendance for the 13th annual event.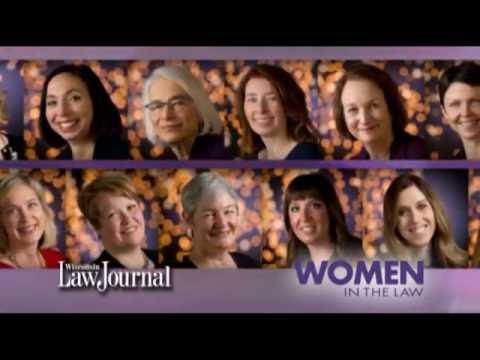 .
.
Meet this year's Women in the Law:
Irvings follows her passions
Ruth Irvings
Law Office of Ruth J. Irvings
Music leads Allex to a legal career
Johanna Allex
Stafford Rosenbaum
Berrios-Schroeder pays it forward as court commissioner
Ana Berrios-Schroeder
Milwaukee County Circuit Court
Employment law changes keep Hanneman on balance
Ann Barry Hanneman
Simandl Law Group
Brito uses law as weapon to fight poverty
Tonya Brito
University of Wisconsin Law School
Chenhalls keys in on immigration issues
Kelley Chenhalls
Hochstatter, McCarthy, Rivas & Runde
Crowley sets standard for life-long learning
Marilyn Crowley
Neider & Boucher
No horsing around for Habush's Esser
Christine Esser
Habush Habush & Rottier
Flaherty is invested in family, staff and community
Karen Flaherty
Brookfield City Attorney's Office
Johnson's law career a steady progression
Lecia Johnson
Godfrey & Kahn
Quarles' Katayama classic in every sense
Alyce Katayama
Quarles & Brady
Klein finds life-work balance in career
Tracey Klein
Reinhart Boerner Van Deuren
Nelson is lawyer, mentor, friend, trailblazer
Christine Nelson
Nelson, Connell, Tallmadge & Slein
For Nowak, actions speak louder than words
Ellen Nowak
Wisconsin Public Service Commission
Pekarske finds hospice law hospitable
Meg Pekarske
Reinhart Boerner Van Deuren
Ricciardi channels her inner Finch
Rhoda Ricciardi
Dane County Circuit Court
Riek puts the 'public' in 'public defender'
Amanda Riek
State Public Defender's Office
Scheuerman finds perfect fit in personal injury law
Kristen Scheuerman
Herrling Clark Law Firm
Schill drafts a solid litigation career
Kathy Schill
Michael Best & Friedrich
Schmidt-Jones adds 'sophistication' to Michael Best practice group
Amy Schmidt-Jones
Michael Best & Friedrich
Schreiber blends business with law
Ariella Schreiber
Rural Mutual Insurance Co.
Schultz stays true to her passion
Angela Schultz
Marquette University Law School
Shadman gives back to program that inspired her
Sheila Shadman
Halloin & Murdock
Skwierawski fosters change in Milwaukee's criminal justice system
Audrey Skwierawski
Wisconsin Department of Justice
Thorn proves she can do it all
Ellen Thorn
Arndt, Buswell & Thorn
Wilson excels in her fast-forward career
Nancy Wilson
Axley Brynelson